Word of Mouth and Referrals Have Made West Virginia Contractor a Regional Leader
Like many contractors, especially in the early days, Mike Conley got into sweeping as a part-time job to make extra money. That's the course he pursued for three years before establishing his company, K & M Service, Inc., as a full-time sweeping, lawn care and snowplowing firm.
Since his start in 1985, Conley has solidified his company's control within his West Virginia market area. Today, K & M Service is known as a full-service, quality-oriented sweeping company that offers a number of other maintenance services, as well.
by Ranger Kidwell-Ross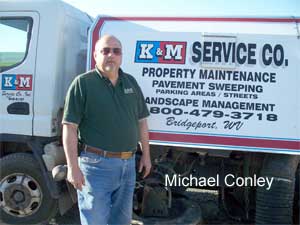 With a background in working at a truck dealership, Mike Conley was working in the parts department for his local Komatsu dealership. "I kept driving by a sweeper truck that was parked at a local convenience store/gas station," says Conley. "A friend of mine and I kept talking about how we could use some extra money. The man who owned the sweeper was also my insurance agent, so I finally picked up the phone and called him in about May of 1985.
"It turned out he was ready to get out of that business since he was not getting along with his partner. I ended up buying the sweeper, kept on his part-time driver and got into business in July of 1985. The sweeper I bought had no dust suppression and no curb broom, so it blew a lot of dust. We got another machine after our first year. "It took three years before I felt comfortable enough to quit my full-time job and take the business over myself. My friend who I'd talked over getting into the sweeping business with for so long didn't ever become part of it, though. I ended up doing it on my own."
In those years there was an economic upswing in progress and that, coupled with Conley's strong work ethic, allowed the company to grow in its relatively small market area. For a number of years, there were no other sweeping companies in K & M's marketplace. Only relatively recently has that changed.
Their first sweeper was a Schwarze unit, and Conley has stayed with that brand until recent times, when he added one of Victory Sweeper's Liberty DX models to his fleet. In addition to power sweeping parking areas, construction sites and some municipal streets, K & M Service also provides a number of related services. In the early 1990s Conley got into landscaping, lawn mowing and similar types of services. They now offer snowplowing and holiday decoration installation/removal, as well.
"In West Virginia we have small communities with 20-30 miles of just highway in between," explains Conley. "It's not like in most urban settings. We have historically found that providing multiple services was an asset that promoted customer loyalty. Today, with so many third-party vendors coming in, that's not so much of a factor. We've had increasing number of situation where prospects want their sweeping company to be separate from their lawn maintenance and snowplowing vendors, for whatever reason."
Unlike most sweeping companies, K & M Service's closest competitor is located 30+ miles away. No doubt part of what has kept competitors at bay is the reputation K & M has for doing a great job. For all these years, most all of the company's marketing has been word of mouth among the closeknit West Virginia business community.

About 90% of the company's work is done for area businesses, with the other 10% made up of government contracts. The only street sweeping the company does is in small, unincorporated towns in the area. The majority is parking area sweeping, but K & M also has a significant construction cleanup business.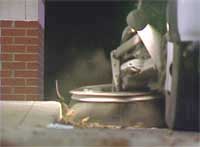 When asked how he sells his business, Conley said it helps that most new prospects have already heard the type of work they do since word of mouth is their biggest source of new business. When he meets with a mall manager or other representative of a business property, he typically does not drive one of his sweepers.
"Those folks pretty much want their property cleaned up and are not concerned with how that happens. They just want the job done right and to their specifications, every time. For construction sweeping, or in other circumstances where the prospective customer may not know how good a job our sweepers can do, I have a man go with me and demonstrate the sweeper I would use for the job. That way, they can see it in action and we can answer any questions about how the machine works."
As may be seen by the backdrop to the photo of Conley at the top of this page, however, wherever they go K & M's sweepers offer a 'rolling billboard' for the company's services. By having an auxiliary engine shroud on the units, he has plenty of room to provide a host of information about K & M Service. Especially in a relatively small market area, these provide a great advertising venue.
Advice for newer companies as they try to expand? "Be patient, which I wasn't to start with. If you're a startup business hiring your first employees keep in mind they aren't you, they don't think like you and, chances are, they're not going to do the job as well as you want it done. It's going to take a lot of time to get them into your training and so forth. As a small business we don't have a training division. I had to go out and show them what's needed on the job.
"Remember to be a teacher. Especially in the beginning your employees are going to forget because, as I said, they're not you. And, we've learned that if people are used to working inside, like at a grocery store or fast food, etc., they probably will not last with the outdoors job of sweeping, landscaping and so forth, no matter what age they are.
"We've learned to ask questions to find out if prospective employees enjoy spending time outdoors, do they hunt or fish or camp or enjoy the out of doors on their own. If they do, they'll be more likely to end up sticking with our type of jobs. I've also learned that our best employees are at least 30 years old, have a family and other responsibilities at home. They understand responsibility and are motivated to stay with a job."
"The big thing to remember with employees, as well as your customer base, is to be honest with them," Conley emphasized. "If you're a young guy starting out and you make a mistake in bidding so you lose your shirt, don't cry to the customer about it. Just take it as a learning experience and still do quality work.
"I tell my employees that I don't care how long it takes them on the job. If it takes too long, I'll address that later. The point is, the job absolutely has to be done right. Whatever gets done needs to get done right. I don't want a callback, ever. And I don't tolerate lying, whether it's from employees or from customers. That is one thing an employee will get sent down the road for right is lying.
And, I won't work for a liar. Walking away from that is best in the long run. If you overcharge someone, let them know and give them a refund. No matter what type of situation I get into, I want to be able to look myself in the face and sleep at night. There have been times I've had to go back and apologize because I was wrong. As far as I'm concerned, (being ethical in all aspects) is something that couldn't be more important."
---
Note: The following audio interview with Mike Conley, which is approximately 35 minutes in length, will play without downloading any files onto your computer. If you hear the interview at 'chipmunk speed,' you will need to download the latest version of Adobe's free Flash player.
Note: To play the interview, click this link or on the small triangle inside the circle you see to the left. If you have any trouble accessing this audio, please let us know.
---
Mike Conley may be reached via email sent to kmservco@aol.com. The company's website is www.kmservcompany.com.
If you have questions or comments about this interview, please, let us know and we can add it in as an addendum to this article.