Australian Contractor, Geelong Power Sweep, A Leader in the Greater Melbourne Sweeping Arena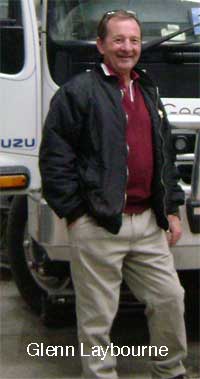 Fourteen years ago, fed up with his work as a long distance truck driver, Australian contractor Glenn Laybourne bought a couple of PowerBoss sweeper scrubbers and used them to clean factories and warehouses.
Today, using a combination of innovation, GPS and personalized service, Laybourne's Geelong Power Sweep provides roadway and construction sweeping throughout his Greater Melbourne market area.
by Phileas Fogg
Geelong, Australia, is a regional center only about 50km from Melbourne. An old port town that served the rural industry for 100 years with shipping of wheat and wool, today this city of about 200,000 has enlivened the docks and waterfront area into a tourist haven replete with museums, shops and restaurants.
Sweeping contractor, Glenn Laybourne, owner of Geelong Power Sweep, is an energetic guy who traces his ancestors to Lord William Laybourne, First Sea Admiral of England.
The company has 4 Schwarze A6500XL units, which are the Australian version of the Schwarze A7000, although with quite a few variations. The company's regular business is sweeping main roads and motorways. For safety, all the sweepers are fitted with large, retractable arrow boards to make them more visible.
"Although we don't do any regular municipal sweeping," says Laybourne, "we often get called out to help with heavy autumn leaf fall. All our sweepers are fitted with a retractable, high pressure front spray bar to handle spills and traffic accidents.
"We also do a lot of cleanup during spray and seal work – commonly called 'chip seal' in the U.S. – for the State Road Authority, as well as for other large asphalt companies. That takes us all over the state, sometimes as far as 500 kilometres from home and on all sorts of roads, from new highways to steep twisting roads through rainforest mountains."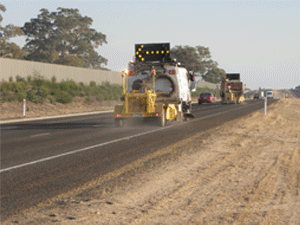 Some areas the company sweeps are quite some distance away from any towns. To make sure they have water for dust suppression, Geelong Power Sweep has a 2,000 litre water tank that is pulled behind the sweeper when they know they can't get town water.
That allows the operator to simply throw a hose into a creek or pond and fill it via use of a 'petrol pump.' Sometimes if there are road works going on they can get a re-fill from a larger tanker. This system keeps the sweeper on the job all day and makes the customer happy.
In extremely heavy aggregate, or when the road must be opened to traffic as quickly as possible, Geelong Power Sweep uses a trailer broom made by Bonne. This machine is hitched behind the sweeper. Two or three quick passes brooms the stone to one side, allowing the road to open. Laybourne says the Australian-designed Schwarze machines can collect a windrow of up to 12" deep.
In the mountain areas around this part of Australia the problem is not only stone, but the sticks, leaves and bark that constantly fall from the eucalyptus trees. In this situation, says Laybourne, quite often within 200 metres in distance the sweeper will collect 6 cubic metres of debris.
The company also specializes in sweeping the various sections of Geelong Port. The Pivot Fertilizer Company lands 1.5 million tonnes of fertilizer per year from bulk ships and, during the time when they are unloading, the company runs flat out with its sweepers night and day in order to keep the Port and surrounding roads clean. As might be imagined, with only a little bit of rain on spilt fertilizer the road can be very slippery. Sweeping quickly keeps this from becoming a major safety concern and hazard.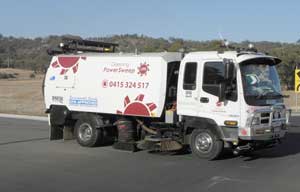 Geelong Power Sweep also sweeps all of the fertilizer company's facility area, as well as storage bins and warehouses. Corrosion would be a factor, says Laybourne, if their machines didn't all have stainless hoppers. The company also sweeps for a large woodchip facility and loader in the area, which keeps them busy as log trucks rumble through and wood chips seem to get everywhere.

At Geelong, the trucks are washed every day, cabins cleaned, mirrors and glass cleaned before the driver leaves. Any scratches or marks are re-sprayed straight away. Laybourne is strict about employing a very rigid cleaning regime with hot water and the right detergent.

"I don't mind paying overtime to make sure they are spick and span for the next job," said Laybourne. "Geelong Power Sweep has a reputation for turning up with good clean equipment and I can assure you it brings in work when people see that you care."


---
I am not interested in chasing extra work just to lift turnover and not lift profit. Sometimes, you can walk all the way around the block and end up next door.
---
The Australian Schwarze machines are all outfitted with GPS, which Laybourne says is "worth its weight in gold, not only for instant reports to customers and confirmation of work done, but as a second way of checking that driver's work sheets – and therefore invoices – were complete. I learned the hard way that it was too easy for a driver to forget to fill in the work sheet, which then resulted in the job not being invoiced.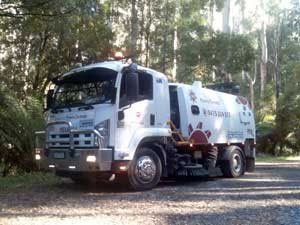 The company employs five sweeper operators, which includes his son and himself. His wife handles computer-based work and invoicing. With his laptop and the GPS tracking system, Laybourne keeps track of where each sweeper is, when it was likely to finish its current job and how soon it will be available to go to a new job.
On average, each sweeper invoices about 45 – 50 hours a week, with about 90% of work done via hourly rate. "Hourly is the only way to operate," said Laybourne, "as you are never sure of the conditions you will find, especially out of town. My customers expect that now and know they will get good value for every hour of time they are billed."
In addition to the company's typical work, there have been some other types, as well. "One of my early jobs was sweeping the pathways of the Botanical Gardens in Melbourne with an old Schwarze 3000," Laybourne recalled. "At the time, the garden authorities were having a huge problem with a colony of 20,000 fruit bats that had made their home in some of the old historic trees. All sorts of efforts were being made to shift them to a more suitable site.
"I noticed that they hated the pitch of the old "paddle wheel" fan in the sweeper and would rise up like a cloud when I swept beneath their roost. So, encouraged by the authorities, that section of pathway became the cleanest part of the gardens. Eventually the bats moved. I like to think I helped in their eviction."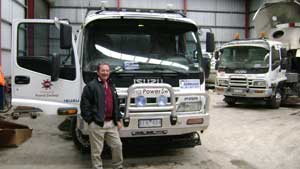 Words of advice? "We refuse some jobs where the rates are cut-throat and the customer is not interested in developing relationships," said Laybourne. "We still have most of our very first customers and over the years have solved some of their problems and reduced their costs. Business has to be more than just master and servant, you both have to work together.
"There's no way of knowing the future, but at the moment we can see steady growth. I am not interested in chasing extra work just to lift turnover and not lift profit. Sometimes you can walk all the way around the block and end up next door." Good advice no matter which side of the world you're on!
---
Glenn Laybourne may be reached via email sent to powersweepglg@optusnet.com.au.
If you have questions or comments about this interview, please, let us know and we can add it in as an addendum to this article.