Envirosweep Takes the High Road in Servicing Customers
In 1981 Robert Pitman started a commercial lawn care company known as Pitman Mowing Service. As time went on some customers requested parking lot sweeping services. Twenty years later, in 2001. Robert purchased his first parking lot sweeper, a slide-in AATACH. With that sweeper he started a parking lot sweeping company he named "Envirosweep."
When he first started, Robert had just one sweeping account, which he personally handled every morning before going to work running his lawn care company. Now, in 2010, Envirosweep has over 300 customers, 22 sweepers and support vehicles, and 23 full time employees.
by Ranger Kidwell-Ross
Robert Pitman says his sweeping company is not the low price leader in his market. In fact, they are probably one of the most expensive. However, when it comes to providing excellent service and keeping client properties in the best possible condition, he's confident that the job his Envirosweep Team does is unsurpassed.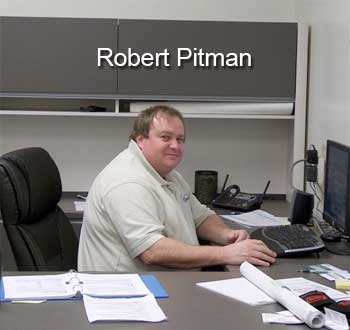 "Although we're currently in an economic hard time, one where property management budgets are shrinking," says Pitman, "many managers recognize that it's more important than ever to make sure their property exteriors are spotless. Our customers know that we offer the training and commitment to keep everything sparkling for them. Giving people good quality and service instead of trying to be the low-cost leader has really paid off for us."
In addition to sweeping, the company does pothole repair, striping and some other services, primarily for their smaller-to-medium customers. "It seems like the larger customers are tending to go toward third party vendors for much of their exterior maintenance," says Pitman, "including sweeping in some cases. So, we're handling less of that type of work than we have previously.
"Although we sometimes spend more time on a site than we should, that's what we do when a customer's site needs it. We position ourselves ahead of everyone else in our marketplace and that's one of the reasons we can do so. I want our company to be seen as a good company that does a good job, doesn't take advantage of its customers and gives them their money's worth. It helps that I've been in the service business for 29 years, because by now I know what people expect.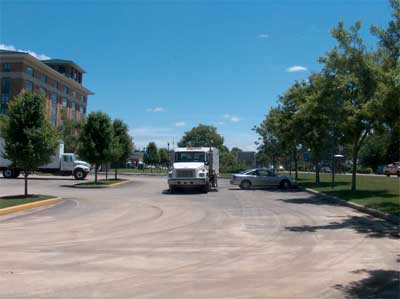 "We don't just run through the parking lot like so many sweeping companies do. We always spend a minimum amount of time on a property just to make sure everything has been done just right."
Although, like in most areas, managers are cutting back on their parking area sweeping, Pitman is of the opinion that is turning around as property managers come around to the importance of having their business exteriors in good shape for their customers. That's another area where his almost three decades of experience provides both guidelines and perspective. "I'm convinced," says Pitman, "that cleanliness is a big factor in what people look for when they choose where to shop. They are naturally attracted to a clean environment, one where both the parking areas and the rest of the lawn and landscaping look nice. That's also something that keeps tenants in place and maximizes the investment they have in their building, because the floors stay in better shape. What a property looks like when people drive by has a lot to do with where they go shopping."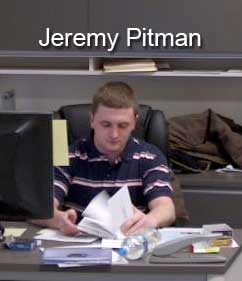 The mechanisms are in place for the next generation, as well. Jeremy Pitman, Robert's son, is Operations Manager for Envirosweep. That factor looms large for the eventual continuity of the company as time goes on. And, it helps the company is now large enough to support a full-time salesperson and a three-person mechanic team.
In addition, Pitman confided the company is working toward NAPSA Certification, which will put them among the top echelon of sweeping contractors in America. In addition, the firm is a signator to WorldSweeper.com's Ethics Statement.
In closing, Pitman re-enforced his customer service philosophy: "Give people their money's worth. When they hire you to do something, make sure it's something you can do. Also, if it's something you can't do be honest with them. If you can't handle it, be upfront and honest with the customer and let them know you can't do it.
You can hear for yourself what Robert Pitman has to say in our 16-minute audio interview with him. The audio includes more of his thoughts on running a sweeping company that maintains a reputation for providing added value and being a top-tier company in his market area.
---
Note: The following audio interview with Robert Pitman will play without downloading any files onto your computer. If you hear the interview at 'chipmunk speed,' you will need to download the latest version of Adobe's free Flash player.
Note: To play the interview, click this link or on the small triangle inside the circle you see to the left. If you have any trouble accessing this audio, please let us know.
---
Robert Pitman may be reached via email sent to rpitman@envirosweepservices.com. The website is located at envirosweepservices.com.
If you have questions or comments about this interview, please, let us know and we can add it in as an addendum to this article.