Growth at City Wide Maintenance Company Has Been Due to Customer Request
Ten years ago Albert and Janee Rodriguez started City Wide Pressure Washers. The goal: Operate with such impeccable ethics and customer service that their clients would have no clue the couple operated the company out of their garage. They were so successful at it that today the company offers an exhaustive list of services, and has operational offices in Sacramento, San Jose, Fresno, Modesto and Los Angeles.
by Ranger Kidwell-Ross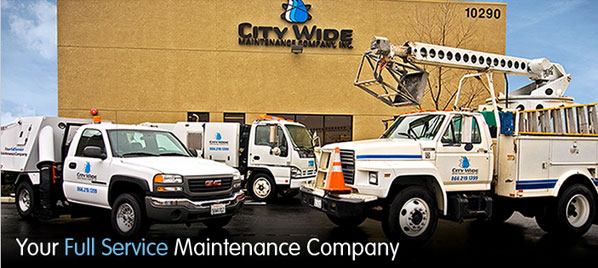 "I didn't get much sleep the first couple of years," reminisces Albert. "I slept with my phone at my bedside and when someone called it was me who would respond." The result was the couple's customers learned they would get taken care of, no matter what they needed or when they needed it. Our customers really liked our ethics and the way we operated the business, so much so that they wanted us to provide other services for them. They thought we were a much larger corporation than we actually were. We had many opportunities to expand that were made available to us by our customers."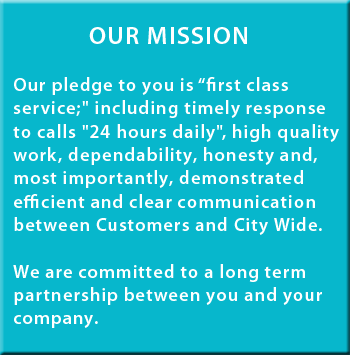 City Wide's long-term growth has continued to come from the same source, customers who appreciate the approach the Rodriguez team have in handling their particular needs. Expansion became a two-way street: On the one side, Janee and Albert were attuned to learning what additional services might be helpful to their existing customers. On the other, customers who liked the business ethics they saw from their pressure washing company wanted to extend that same value to other areas of their facility maintenance.
"We truly emphasize listening to what our customers tell us, and then acting on addressing their issues," says Albert. "So many contractors simply don't listen to what their customers tell them or, if they do, they don't take action to provide a solution based upon what they are told. Too many people in our business make the mistake of telling a prospect for their services what they do, why they're great, all their advantages. Those may not even be what the customer is looking for.
"Our approach is to structure our business like banks did back in the 1940s. When you walked into the bank, they knew where you were going, who you were, what your needs were. Even when we were just powerwashing, we would evaluate their property and apprise them of anything we could think of that they might find helpful. As soon as we would present this type of information to them, they wanted us to become their property maintenance company, from sweeping to all the other types of services we provide. We emphasize not just the service side, but also the management and follow-up side.
"We find out what customers want and need, how they like to do business, what's important to them, the way they like things to be done and so forth. Then, we tailor the services we provide to their individual needs. No matter how many customers City Wide ever has, when we work with a particular individual or property manager or whatever, what we do will be designed to fit the needs of that particular customer. They are our most important customer, and we do business with them in the manner they request."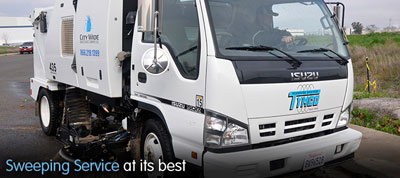 Expansion of City Wide's slate of services has occurred as a direct result of customer input. Rodriguez' Team surveys existing customers even today to find out what other services the company might provide that would benefit their existing clientele. "We gather with our customers several times a year on whatever schedule suits them best, from quarterly to yearly. We can work with them to assess their needs, figure out budgets and determine the best way to proceed in the coming year."
How new services continue to come aboard even today is via customer requests. "Because customers like how we operate, they know they want us to provide a new service. Typically, they will ask if we can provide a new service, and are willing to give us time to learn it, perfect it and then provide it to them.
That way, they know it will be done correctly, at a reasonable price and done the way City Wide does its services. We take the approach of taking care of those who take care of us and we will always be taken care of. And, we always do it at a reasonable price. We're not in it to gouge any customers, and that's why so many our customers don't see a need to go out to bid."
Although all of the company's services are typically provided in-house, they also work with a host of quality partner businesses they've learned to trust. That way, if some parking lot striping needs to be subbed out in the busiest time of the year, for example, all of City Wide's customers can be assured of getting the work done both correctly and when they need it.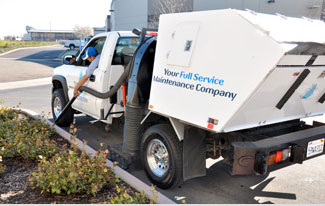 The City Wide website is one of the nicer ones you'll see, with revolving graphics, a clean layout and a full explanation of the services provided. It's easy to navigate and there's even a video showcasing the power sweeping services the company provides.
When asked about what he sees as the key to expanding to other locales, Rodriguez did not hesitate. "When it's about the company and the company only, you will not make it. You must make sure that every driver, mechanic and every other employee who will be part of that expansion are taking a step forward. In our ten years in business, not one of our team members has taken a step back.
When each of the people involved is taking a step forward, each and every one of them will provide 100% to make sure the new location, or new service, or whatever it is you are expanding into will be a smashing success. We are all about personal growth and moving forward for all members of our City Wide Team.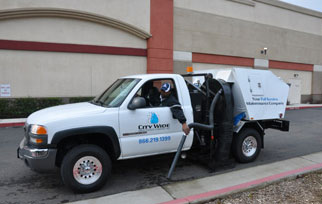 We want to make sure everyone associated with us sees each of these types of steps as a positive, and that they are able to move up and forward with us. The empowerment of our personnel is something that we hold to be very important; we grow our business, we grow our individual employees and we grow the world. Anyone who's considering starting a new business or expanding, make sure all of your personnel are moving with you in a forward direction and that no one is ever left behind."
Perhaps surprisingly, Rodriguez is not bothered by the unsettled economic times in which we find ourselves in mid-2010. "Today's times are 'challenging;' that's how we like to refer to them here. There's so much work out there, so much potential, so many opportunities that I believe many in the sweeping industry are overlooking. Whether you are a current contractor trying to expand or someone who's just getting into the industry, my advice is to step back and look at your operations.
What new areas can you offer your current customers to increase your potential and warrant an expanded level of trust and continued partnership from them? The people in this industry must learn and grow from these times because these times can make each of us much stronger than if things were as great as they were a few years back.
It's times like these where we all grow, and it brings back the synergy to your organization to get all the minds in it working together to see what you can do as an organization to offer more service to your customers.
You can hear for yourself what Albert Rodriguez has to say in our 24-minute audio interview with him. The audio includes more of his thoughts on running a sweeping company, expanding operations, customer notification techniques and more.
---
Note: The audio interview with Albert Rodriguez will play without downloading any files onto your computer. If you hear the interview at 'chipmunk speed,' you will need to download the latest version of Adobe's free Flash player.
Note: To play the interview, click this link or on the small triangle inside the circle you see to the left. If you have any trouble accessing this audio, please let us know.
---
Robert Pitman may be reached via email sent to albert@citywidemci.com. The website is located at www.citywidemci.com/.
If you have questions or comments about this interview, please, let us know and we can add it in as an addendum to this article.