Three Rivers Power Sweep, Inc. is a Powerhouse in Pittsburgh
From all types of sweeping to cleanup of the largest events and much more, this company can handle it!
by Ranger Kidwell-Ross
I first met the owners of Three Rivers Power Sweep in about 1995, at one of the National Pavement Expositions. After being exposed to the vivacious sisters who owned the company, Linda Smith and Kathy Stotler, it was easy to see how they had built up such a viable sweeping operation. I was impressed enough that I featured them in a subsequent issue of my American Sweeper magazine.
Although both ladies continue their retirement by continuing to be a part of the operation, in reality the owner today is Kathy's son, Leroy. He started helping out in the family sweeping business at around 12 years of age, and literally grew up in sweeping.
However, once he graduated from high school, Leroy attended Pitt State and graduated as an engineer. After the better part of two decades in the high-tech software business, apparently the 'romantic pull of power sweeping' became too much. In any event, that combination is no doubt a powerful one for operating a full service sweeping firm.
For the past 18 years, Three Rivers Power Sweep, Inc. has had the tough task of clean up for all activities held at Three Rivers Stadium and now continue that tradition of service at both Heinz Field and PNC Park. This experience has led them to branch out to provide a wide variety of cleanup services to all types of local events. They have developed a flexible staffing capability that enables them to descend on any event and, with their equipment, manpower and proven processes, clean up the worst of event debris fields.

The Three Rivers' management team has long understood the importance of being involved in the Greater Pittsburgh business community. As may be seen in the logo to the right, this includes their local BOMA and Chamber of Commerce. Plus, due to founders Kathy Stotler and Linda Smith, the company is also a member of the National Association of Women in Construction.
Three Rivers is a full service company. Their sweeping operation ranges from smaller indoor scrubbers and sweepers through parking area vacuum sweepers and into the most heavy duty of mechanical broom pickup needs. Along with the sweeping portion of the company are all the standard services like backpack blowing, trash can liner removal and large item removal. In addition, their other services are extensive:
Skid loader services
Trash can and porter services
Water flush truck services
Snow removal and ice control
Back pack blower services
Power washing
Labor for perimeter and heavy debris clearing
Leaf removal
Turnkey dumpster operations
Lot layout and line striping
Asphalt repair and sealing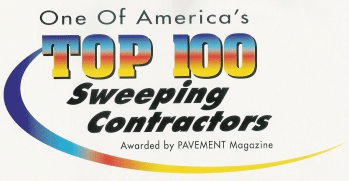 Three Rivers Power Sweep has been listed by PAVEMENT Magazine as one of America's Top 100 contractors. This designation is determined by total volume of business done by a sweeping company.
Note: The following audio interview with Leroy Stotler is approximately 20-minutes in length, and will play without downloading any files onto your computer. If you hear the interview at 'chipmunk speed,' you will need to download the latest version of Adobe's free Flash player.
Note: To play the interview, click this link or on the small triangle inside the circle you see to the left. If you have any trouble accessing this audio, please let us know.
Leroy Stotler may be reached via email, or by calling him at 412-795-6544. The company's website is www.f3rpsinc.com.
If you have questions or comments about this interview, please, let us know and we can add it in as an addendum to this article.