Clean Sweep Provides Full Slate of Services in Greater Omaha, Nebraska
Second generation Omaha sweeping contractor provides all types of sweeping and most exterior pavement services.
by Ranger Kidwell-Ross
"We can accommodate just about any kind of sweeping project," says Keith White. Along with his brothers, Jim and Kenneth Jr., White operates Omaha-based Clean Sweep Inc., which was started in 1984 by his father, Kenneth Sr. "In addition to regular parking lot sweeping and day portering, we can handle cleanup for any type of construction project, asphalt on milling projects for highways and city streets, cleaning pavement prior to paving and striping -- we've even gotten involved in the cleanup after the destruction of a building being torn down."
Although Kenneth Sr. is still technically in the company, he is no longer involved in the day-to-day operations. Clean Sweep operates a variety of sweeper makes and models, including Mobil and Elgin broom machines. Their air sweepers include SK brand parking lot air sweepers and a TYMCO 600. In short, they have the equipment needed to do whatever type of pavement task is required, even in the sometimes harsh environment Nebraska can be in the springtime.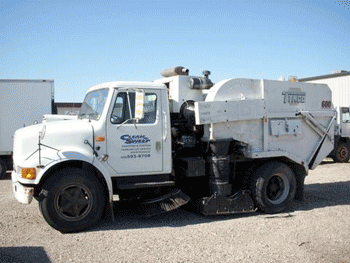 "Keeping a retail complex clean can be difficult after the amount of winter sanding we see in our area," continues Keith. "For the first sweep of the season, we go out with a backpack blower and blow all the corners out. Then we run through with one of our big broom sweepers. After that, though, our SK Sweepers can typically handle sweeping the lots for the rest of the year."
Instead of having a backpack blower operator ride in the sweeper, or have the sweeper operator stop and do blowing, the company sends a blower operator out a night or so in advance of when a lot is scheduled to be swept. They've found that maximizes their sweepers' time on a route and ensures that all the debris is cleaned out from all the corners and landscaping. The company even performs the function of onsite property manager for some of its clients.
White credits the success that Clean Sweep's operation has seen to the quality of the services they provide, day in and day out. Plus, they recognized some time ago the added value they could provide to their customers by providing other services in addition to sweeping. Today, he says, customers call them first for all manner of exterior, pavement-related services.
While they self-perform many of these, including striping, pressure washing and pavement flushing services, the company also works with other contractors in the area to arrange for whatever else their customers might need.
"There's no question that property managers prefer calling on one central company to get as many services as possible," says Keith. "We have relationships with contractors throughout our area for the things we don't do ourselves. By providing this type of 'one stop' service, we are also able to see what our customers need. Ultimately, when we see an ongoing need for a particular type of service we don't now provide, we'll start doing so."
The latest service they've rolled out is their power flushing service, which involves hooking up to a hydrant and flushing large areas of pavement. "For those occasions like grand openings when customers want their property clean enough to eat off of," says White, "there's nothing better." So far, no restrictions are in place in the Omaha area about use of water for flooding a paved area clean, and the company has received excellent customer feedback about the end results.
White says the soft economy has had little effect on the Omaha area until recently. Anchored by the insurance giant, Mutual of Omaha, the town has been able to sidestep much of the recession that's hit so hard in other geographical areas.
"In recent months we've seen perhaps a 15% dropoff, but that's all. When we are contacted by customers who need to find ways to cut back, we do whatever we can for them. First off, we make sure we know why they're needing to reduce services, just to make sure it's nothing we've done. Then, we work with them to figure out what can be done. We try to be flexible and to provide as much assistance as we possibly can. Our goal is to have long-term relationships and we recognize there may be some ups and downs over time."
The audio interview with Keith White, which is linked below, provides an in-depth look at how Clean Sweep has gained success in America's heartland.
---
Note: The following audio interview with Keith White, which is approximately 12 minutes in length, will play without downloading any files onto your computer. If you hear the interview at 'chipmunk speed,' you will need to download the latest version of Adobe's free Flash player.
Note: To play the interview, click this link or on the small triangle inside the circle you see to the left. If you have any trouble accessing this audio, please let us know.
---
Keith White may be reached via email sent to info@cleansweepomaha.com. The company's website is www.cleansweepomaha.com.
If you have questions or comments about this interview, please, let us know and we can add it in as an addendum to this article.