AAA Southwest Sweeping has Turned Small Sweeping to Big Advantage
In 1996, Bill Mosienko came from Pittsburgh to Phoenix to see his Mother. While there, he tagged along with an acquaintance who swept parking lots to see how the job was done. It wasn't long after that until Mosienko moved to Arizona permanently, bought a Powerboss and a pickup truck and got into the business on his own.
by Ranger Kidwell-Ross

Bill Mosienko had always wanted to start a business of his own. Who better to help that happen than his own Mother? "On a visit to Phoenix, Mom arranged for a friend who swept parking lots to show me how it was done," says Mosienko. "At that time, Phoenix was a booming city where probably anybody could have made a go at it.
With ideas, encouragement and even a couple of accounts to get started with from the contractor -- John of Gipson and Company, who's still a good friend and friendly competitor today, 13 years later -- I was in the parking lot cleaning business."
Initially, Mosienko wanted to stay a one-man operation, with no thoughts of expansion, more sweepers and employees. After about four or five years of working on his own, and with a realization there was plenty more business available, he got another Powerboss and hired someone to run it. To date, he's found that type of smaller sweeper to be ideal for the type of lots the company specializes in.
"Our niche in the parking lot sweeping side is the smaller lots, the churches and doctors' offices and the like," says Mosienko. "Although today we can take on the larger areas, using our TYMCO 435, which is versatile enough to sweep streets and parking areas, our real area of specialization is the smaller lots. There are plenty of people with the mid-size air sweepers out there competing for the big box stores and large malls. Although we do a few of the larger accounts, that's not where our bread-and-butter is."
In 2005 the company expanded into the street sweeping arena, as well, first getting a Python sweeper. Then, each year since they've added another larger sweeper to the fleet, next a Stewart-Amos machine and, most recently, the TYMCO 435. That diverse fleet gives AAA Southwest the flexibility to handle most any sweeping job that comes their way.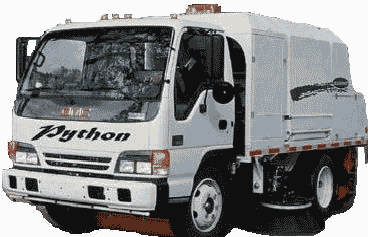 "A few years ago we started getting quite a few calls for street sweeping," recalls Mosienko, "and I realized there had to be potential out there in that part of the business. We've done very well in street and construction sweeping, largely, in my opinion, because of our emphasis on relationship building. I think it's important to get to know our customers, to find out what they really need and to provide consistent quality in all we do.
"There's no question our customers recognize that when we show up we're there to do the job right, not to be on our cell phone or have a sweeper that doesn't operate well. We're professional, are there when we're supposed to be and, in the event of a breakdown, have a backup sweeper we can get onto the project quickly. When people know they can count on you, then in our experience when they have work available they'll call you first. We appreciate our customer loyalty and are proud to have earned it."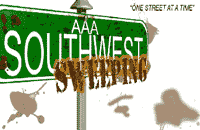 AAA Southwest is headquartered in Wittman, Arizona, which is a suburb of Phoenix. Mosienko is a believer in being part of the community around him, so belongs proudly to his local Surprise Chamber of Commerce and the Better Business Bureau. His employees are MSHA-Certified, which allows the company to be involved in sweeping at the many mines that dot Arizona, and are all E-Verified, a federal government program that confirms each has legal working status.
In the approximately 15-minute audio interview, linked below, Mosienko discusses how AAA Southwest Sweeping operates in a niche that most parking area contractors haven't cracked, the smaller ride-on marketplace. He talks about why he's found Powerboss to provide a sweeping answer in the Phoenix, high sand locale, one that can't be matched by typical chassis-mounted air sweepers.
Note: The following audio interview with Bill Mosienko, which is approximately 15 minutes in length, will play without downloading any files onto your computer. If you hear the interview at 'chipmunk speed,' you will need to download the latest version of Adobe's free Flash player.
Note: To play the interview, click this link or on the small triangle inside the circle you see to the left. If you have any trouble accessing this audio, please let us know.
Bill Mosienko may be reached via email, or by calling the company at 623.975.1697. The company's website is www.aaasouthwestsweeping.com/.
If you have questions or comments about this interview, please, let us know and we can add it in as an addendum to this article.