Wells Sweeping is Leading California Contractors' Fight Against California Air Resources Board Regulations
by Ranger Kidwell-Ross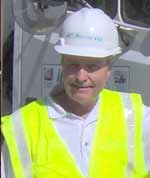 In the early 70s, guitar-playing Jay Wells says he kept seeing these odd-looking machines out late at night when he'd finish his band gigs. Interested, he talked to the drivers to see what it was they were doing. Then, he met Jack Rogers, inventor of the Nite-Hawk single-engine sweeper concept. Before he knew it, Wells said with a laugh, he was "in the parking lot sweeping business."
Initially, fledgling Wells Sweeping handled only parking area cleanup. "There wasn't much competition to speak of," Jay said. "It was the golden days of sweeping. One of the manufacturers had an ad campaign about there being 'gold on the streets.' Looking back at it, in a way the ads were true. I didn't realize how good we had it."
Although Wells, like most other long-time contractors in the business, now complains of today's stagnant pricing and heavy competition, he's also honed his business to stay competitive in today's marketplace. The company now offers a variety of other exterior maintenance services, even including several accounts with remote ownership that rely on Wells Sweeping for their property management.
In the 90s, the company's growth included spinning off a street sweeping division, which is actually a separate LLC-based company run by 'managing members.' Wells Sweeping, LLC, offers construction, street and roadway sweeping throughout his Sacramento market area.
"The liability is clearly higher in daytime work," Wells said, "so when we put it together we went with an LLC. Ownership is split up among people involved in the business. We find there are advantages to having a company that has a management team that are also owners. That, and our commitment to doing the jobs right along with having the correct equipment and good operator training, has allowed us to grow relatively rapidly into becoming a major player in the street and construction sweeping market."

In recent months, however, the organization hit rough patch when a representative of the Sacramento segment of the California Air Resources Board (CARB) showed up at the company's door to look at its fleet. Unbeknownst to the management team, some time previously the agency had enacted a regulation requiring older auxiliary engines to be licensed or else not be used any longer.
Unfortunately, as far as anyone can tell the Wells organization was never notified about the new legislation and the grandfather/sunset period for licensing had elapsed. The result: A dozen of his sweepers were red-tagged and no longer allowed to operate. (See our previous coverage on this topic.)
This situation has led the Wells organization to spearhead an effort by California contractors to educate CARB about the air quality, environmental enhancement value of sweeping, with the end goal of getting a variance for sweepers. Although well qualified on the merits of the company itself, that is one of the reasons Wells Sweeping was chosen as the WorldSweeper.com Contractor of the Month for May.
In an extensive half-hour audio interview that every contractor will benefit from hearing, Jay Wells touches on the interactions with CARB to date. Most of the interview, however, provides colorful history of the early days of parking area sweeping and usable ideas and tips for those newer to the industry.
Note: The audio interview will play without downloading any files onto your computer.
Note: To play the interview, click this link or on the small triangle inside the circle you see to the left. If you have any trouble accessing this audio, please let us know.
More information about Jay Wells and his companies, Wells Sweeping and Wells Sweeping, LLC, may be found on the company's website, WellsSweeping.com. Wells may be reached via email sent to jay@wellssweeping.com.
If you have questions or comments about this interview, please, let us know and we can add it in as an addendum to this article.