Are Your Employee Performance Reviews Up to the Mark?
by Linnea Blair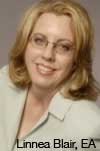 Too often, businesses waste much of the effort they put into conducting performance reviews. Performance reviews can be a lot of effort, because they take time away from other business activities, which are often seen as more important.
So, many business owners conduct the reviews, evaluate the results, maybe give out raises which may or may not be tied to the reviews, and file everything away never to be looked at again.
Planning Ahead

Performance management at its best is an ongoing cycle of planning, doing the work of the business, and reviewing the performance of the organization as a whole and each team member as a vital component of the entire machine that is your business. Your vision and strategy should guide your performance management process with your Business Plan and Core Competencies acting as your road map and sign posts.
Your business plan should list the goals that you expect to achieve for the year. It is important to evaluate whether you have the number of people as well as the necessary mix of skills, knowledge and competencies that are needed to succeed in your goals.
A performance management process helps you to assess your team members' skills against core competencies to determine the level at which they are operating. At that point you can then assess how capable they are at performing the tasks within that level or position.
The next step is to develop a personal action plan for each employee to help them to improve their current skills and develop the ability to take on more challenging assignments. Finally, it is important to monitor team members' performance on an ongoing basis to determine if they are meeting expectations.
A good practice is to include feedback sessions with each team member as part of an ongoing monitoring process. This will allow business owners or supervisors the opportunities for coaching the employee and reviewing their personal goal plans and to make sure that these personal goals also are in alignment with the needs of the business as a whole.
A good performance management process measures employee performance against objective criteria from job descriptions and core competencies which makes it easier to provide a real basis for decisions on raises and promotions.
Best Practices
Good job descriptions for each role in your company are the cornerstone of good performance reviews. A good job description describes the purpose, responsibilities and tasks, and well as the knowledge, skills, and abilities needed to perform in a given role, and as such identifies the core competencies and key performance indicators that will point to successful achievement in that role.
Your organizational chart should also identify the career structure and a progression path for employees who wish to grow within the organization. Each role within the structure should have a job description – even if that role is not presently filled.
If you have never had a performance review process in place, you will want to discover at what level your team members are currently functioning. You may have employees who are filling a foreman role, for example, but may not really be operating with the competency set for a foreman according to your job description for that role. This situation may be caused by a number of reasons, including weak job descriptions, job descriptions that are not fully used within the company, promotion of a person to a role prior to implementing formal job descriptions, or just plain expediency.
Your goal in this discovery will be to determine what you need to fulfill your Business Plan. Action may involve training or coaching for current employees to grow in their competencies or to progress to a new role. You may also discover you need to recruit for a specific role or move an employee to a role for which they are better suited.
When you conduct a performance review, the review itself should be set up to assess the level of competency based on the job description itself. This is where having a strong job description really pays off as it is simple and objective to rate the employee directly from the list of competencies inherent in the job description.
Each team member should perform their own self assessment. Supervisors and managers should also perform a review on their direct reports and, depending on the size of the company, the business owner or senior management team may review all employees or meet with supervisors to discuss their review of lower level personnel.
Before you roll out a complete performance review system there are some things you need to consider for successful implementation:
The business owner must be fully committed to the process.
A capable 'point person' should be chosen to spearhead the process. This does not need to be the owner, but should be someone who supports and understands the process, and has the necessary credibility within the company to take the lead.
The performance management process and its benefits, should be communicated to the team, along with due dates for completion.
Implementing Performance Reviews
The timetable should include time for the self assessments and reviews to be completed. Since some managers will need to review multiple employees, make sure to have a realistic time frame for them to complete the reviews in addition to performing their regular responsibilities.
Once the written assessments are completed by employees and managers, individual meetings should be set up with each employee and either their supervisor or a business owner (or both). The goals of this part of the review process are to communicate with the team member about how he or she is performing in the current role, deciding together on action steps to either improve in areas that are weak, or to determine what steps the employee can take to progress to a role of greater responsibility within the company. The resulting personal plan will become a method of objectively measuring future progress during the ensuing period of performance monitoring.
The timing of performance reviews can come at the end of a fiscal cycle or at the end of a seasonal cycle. Typically you would not want to conduct performance reviews at the height of your busiest season, though that may be a good time for more informal project reviews. You also may want to structure your performance reviews to occur prior to the time you would normally give out raises so that you can tie your decisions about what raises and promotions to give based upon objective merit.
Ongoing Performance Management
Monitoring performance on an ongoing basis through follow up coaching sessions or meetings make the difference for many companies in the successful implementation and progress of team members towards their personal action plan goals. Some company meetings may be a good venue for reviewing project performance. Supervisors may also set up individual meetings on a quarterly if not monthly basis to check in on team members' progress towards their personal plan and determine new action steps if necessary.
Dealing with poor performance is different than coaching employees who are, for the most part, on the right track. When you have poor performers in the company, it is critical to the business as well as to the individual employee and the team that the situation is dealt with effectively and quickly. This topic is an article unto itself and will be addressed in a future issue.
Business Owner Commitment
As mentioned earlier, the success of a performance review process rests largely with the business owner. Your commitment of your own and your employees time to the review process together with a demonstration of positive and constructive communication to your team is critical if you want to develop a culture that emphasizes achievement and dedication to high performance and teamwork.
---
Linnea Blair, President of Advisors On Target, is a business coach and consultant who specializes in helping contractors with strategic planning and organizational development. Find her online at www.advisorsontarget.com.
This article was added to WorldSweeper.com in April, 2010. It originally was printed in a newsletter provided by Contractor Power.
---