The Importance and Strategy of Conducting Exit Interviews
An Exit Interview is a final meeting between an employer and a departing employee. By conducting one, the employer is better able to learn what the reasons are for the departure, and to gain valuable information that can be helpful to improve or protect the firm in the future.
Posted July, 2008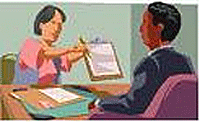 Exit Interviews allow employers to provide employees with all the information they need about termination of the employment relationship. Other benefits include:
guarding against potential lawsuits,
smoothing over any conflicts with co-workers or managers,
learning about problems with other employees,
helping to discern whether the employer's pay is competitive,
learning how to retain their best people,
reducing problems in the workplace.
Exit interviews also provide employers an opportunity to control any negative publicity that might come from a discontented employee, pinpoint specific areas causing employee dissatisfaction and turnover, and to openly share information that will bring the employment relationship to a positive close.
The information obtained during an Exit Interview is often the most candid and valuable information an employer can hope to receive from an employee, since there is no longer the pressure for the employee to guard one's responses in an effort to improve their individual status within the firm.
Whether employees leave on their own, or because they are being asked to leave, employee insights can provide valuable "inside information." It is recommended by HR experts throughout the construction industry, that employers should always conduct an Exit Interview in order to obtain this important information.
When conducting an Exit Interview, there are a few things an employer should consider:
Exit interviews should be conducted for every exiting employee, regardless of their level in the organization.


Interviews (questions and procedures) should be executed with a standardized methodology in order to make the interpretation of results useful.


Interviews should be prepared for in advance with a clear determination of the goals for the interview and any specific items that should be covered.


The information received from the Exit Interview should be utilized to implement real change in the workplace, and not just to store as employee documentation.


In addition to the HR Director, senior management should be copied on the reports generated from the Exit Interview, and required to provide feedback.


Interview questions and answers should be well-documented by the employer in order to assist with any future legal case brought about by the employee.


Employers should ask open-ended questions and probe for opinions about the employee's job, supervisor, and general management, subordinates, working conditions, opportunities for advancement, firm policies, training programs (or lack of), reasons for leaving and any potential legal issues.


Record the reasons in writing why the employee is leaving to avoid employee claims such as wrongful termination. The information you receive can be used to offset any claims that are not addressed in the Exit Interview.


Try to obtain recommendations on continuing health benefits and the discontinuation of other benefits.


Settle up on any payments for accrued vacation or wages due.


Obtain the transfer of all company property such as keys, credit cards, books, or other materials.


Readdress any non-compete or confidentiality agreements, should they apply.
Choose the best person to conduct the interview. Sometimes the employee's direct supervisor is not a good choice, especially if there are complaints involving that person. Make sure the interview is conducted as close as possible to the end of employment so the employee feels he can be candid without facing possible consequences in the workplace.
It should, if possible, be the last thing the employee does before leaving the premises permanently. You may assure the employee, however, that her anonymity will be protected unless she raises issues of unlawful conduct that require further investigation or later files a lawsuit against the organization related to her employment.
Some firms offer online solutions to the Exit Interview. This is where exiting employees can complete a questionnaire online from the privacy of their home. These systems streamline an employer's Exit Interview process and automatically capture, track and statistically analyze employee satisfaction and turnover data. It also makes it easy to turn the data into comprehensive reports that pinpoint the trouble areas within the company.
Today, more than ever, human resource professionals and company management need to take a pro-active role in providing solutions to employee retention and development. The Exit Interview is a critical opportunity to do just that.
This article was provided courtesy of Construction Executive Online, a career management center for construction executives. CE provides construction executives access to hundreds of Construction Executive Job listings, and to expert Career Counseling from the nation's leading executive coaches.
CE is also an established information provider of construction salary surveys, construction career polls, and construction employment demographics, and maintains over 250,000 subscriptions to its distinguished 'Construction Executive Report.'
---