The City of Vancouver's Gold Medal Job of Sweeping at the 2010 Olympics
by Ranger Kidwell-Ross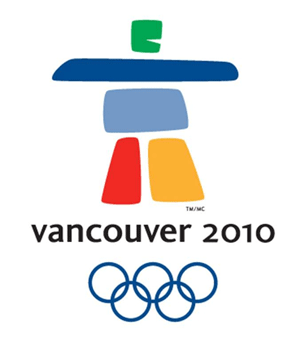 When it came to keeping the area in and around the 2010 Olympics sparkling clean, the buck stopped with Jim Heeps, Superintendent of Street Cleaning for the City of Vancouver, and Dennis Cole, Acting Superintendent of Daytime Sweeping.
Due to a planning routine that started when Vancouver was first chosen for the 2010 Olympics, Vancouver's street cleaning team clearly stood atop the podium with its world-class effort during the Olympics.
Okay, Olympics' sweeping wannabees, gather 'round: Here's the situation...

You have 250km of roadways and 260km of sidewalk to keep clean during a world-class event, the 2010 Winter Olympics. Expectations are that your city will be hosting 2.3 million visitors from around the world to view the events, with 5,000 athletes and officials there, as well. Also to account for will be about 10,000 media attendees and 14,000 volunteers.
Here's what you have in your fleet to do the job: five Elgin Crosswinds, two Elgin GeoVacs, two MadVac walk-behind machines, a Green Machine 535HS and a mid-sized Tennant.
Although this daunting task might cause some to cue the soundtrack to "Mission Impossible," Jim Heeps and Dennis Cole would not be counted among them. And, as it turned out, the City of Vancouver's Street Cleanng Department was well up to the task.
Planning began shortly after the City learned it won the Olympics; Heeps' sweeping department then wasted no time in developing its pre-planning strategy. Then, a higher intensity of planning took form a year-and-a-half prior to the games, with this process accelerating further as the event became closer.
Ultimately, Heeps and Cole decided they could handle the job with four sweepers for their day shift, each running an 8-hour route. They decided to run four sweepers for their night shift, with each of them taking a 10-hour route. Added to that would be the sidewalk sweepers in action during both days and nights, as needed.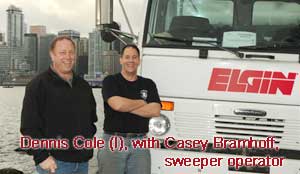 "Our big sweeper team did a fine job, as always, and the walk-behind machines got an incredibly positive response from both the public and businesses," reported Cole. "They kept our sidewalk areas very clean, of cigarette butts and other material. They really do an outstanding job of 'micro-cleaning.' Come through with those on a regular basis and the result is beautiful. Using these smaller sweepers was new to us and they did a fantastic job."
Not that the event was without 'on-the-fly' decisionmaking or that all went exactly according to plan... "We ended up with double the people in the downtown core," continued Cole, "and they stayed much later than anyone expected. Once the crowd had built up in the downtown core, especially in our theater and nightclub district, they stayed until about 4am. This gave us a very small window of opportunity to clean up in those areas, since our operators were scheduled to get off shift at 7am. However, we flexed with it and the results turned out great."
Both men reported that all comments they'd received were completely positive, so their behind-the-scenes hard work really paid off in the overall impression the City was able to make on its many visitors. The extra volume of people turned out to be the biggest unexpected challenge, but the organization's planning had been so thorough that integrating the higher than expected density was no problem.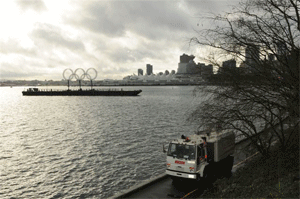 "We thought there might be more problems," said Heeps. "However, it turned out better than we could ever have expected. One thing we did that worked out very well is we put out an additional 225 hoops to hold plastic bags for garbage, and another 225 hoops for recycling. That helped immensely."
When asked about the response of people from all corners of the world to the concept of using the segregated containers, so as to be able to separate the recycling, results appeared mixed. "Unfortunately," Heeps reported, "more of our recycling than we would have liked ended up as garbage. Once someone puts one (item that does not recycle) into the recycling, then other people just add to it."
In the audio interview, below, which was done during the final week of the Olympics, Heeps reported a cautious overall recycling total estimated from 10% to 30%. However, a follow-up communication after the Olympics were over and the final totals were compiled showed the overall recycling ended up at 40% of the total, a very admirable final result.
Although they had typical maintenance issues with their sweeper fleet, the City had no real sweeper problems, breakdowns, etc., whatsoever. Cole reported that the City's excellent training program for operators includes dealing with language issues, handling members of the public and much more, in addition to vehicle training. As a result, there were no concerns their capable operators would be able to handle whatever came up in that regard, or that their professional fleet maintenance team would be able to keep their sweepers and other vehicles operational for the big event. And, in both respects that turned out to be the case.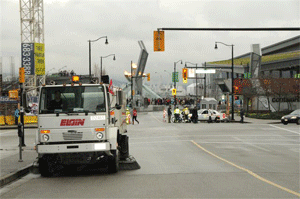 Perhaps the best validation of the job the City of Vancouver did of sweeping came in the compliment given to them by attending officials from Brazil, upcoming site for both an Olympics and a World Cup event. "They asked us to consult with them on planning and implementation of their sweeping program," said Heeps, "which we agreed to do. They couldn't believe what a great job we did, as well as how few people we needed to handle it all." High praise, indeed!
For an enjoyable, in-depth view of the City of Vancouver's sweeping effort for the 2010 Olympics, you are invited to listen to the approximately 16-minute audio interview we offer with Heeps and Cole. Note that the audio will play without downloading any files onto your computer. If you hear the interview at 'chipmunk speed,' you will need to download the latest version of Adobe's free Flash player.
Note: If the player embedded above does not operate for your browser, click here to play the audio.
To contact the City of Vancouver Sweeping Department, we suggest you send an email to Dennis Cole.