Sweeping in Dhaka, Bangladesh
Bangladesh is both an old and a new country. Jammed between India and Myanmar at the top of the Bay of Bengal, the country has a history stretching back 4,000 years.

More recently annexed to Pakistan and named East Pakistan after the British partition of India in 1947, Bangladesh finally became an independent republic after a war with Pakistan in 1971. Although a Muslim country, it has a relatively benign mostly secular population of around 170 million.
by Phileas Fogg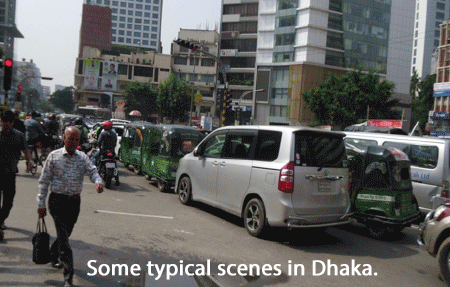 Dhaka, the bustling Bangladesh capital city of around 20 million people, sits on the wide, flood-prone Ganges River delta and is the fourth most densely populated city in the world. Bursting at the seams, the city never seems to stop with traffic consisting of cars, trucks, buses, motorbikes, auto-rickshaws and good old-fashioned pedal rickshaws. All of them are equipped with a horn or bell, which is used incessantly. The noise is deafening and, of course, none of the drivers seems to take any notice.
There is no chance of sweeping any of the streets during the daytime, there is hardly enough room for the traffic, let alone any form of sweeping.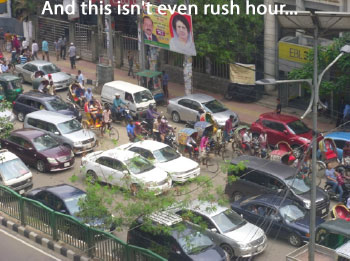 I spoke to Commodore M. A. Razzak, Dhaka's Chief Waste Management Officer, and Abul Alam, Executive Engineer Waste Management at Dhaka North City Corporation (Dhaka is divided into two administrative areas, North and South) about how they tackle the daunting task of keeping the streets clean.
The simple solution is to sweep manually at night. Just in Dhaka North 4,000 hand broom sweeper personnel are sent out each night.
These good folks, about 50/50 men and women, walk to their designated streets from small depots scattered throughout the city. They are armed with a whisk broom, shovel and, in some cases, a small wheelbarrow. All this seems very basic, but overall the city streets were relatively free of litter and looked reasonably clean. I have certainly seen dirtier streets in so called "first world" cities. The manual workers sweep debris into piles in the gutter, which are then loaded manually into a tip truck for removal.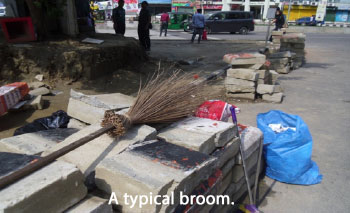 Dhaka South has a slightly larger area and utilizes 7,000 manual sweepers. That is a total of 11,000 people fanning out each night across all of Dhaka The organization and management of such a large workforce is considerable as each side of the city tries to extract maximum efficiency from its sweeper personnel.
The sweepers work is made all the more difficult by the building construction taking place all over the city. During the process, sand and building materials are dumped in piles on the roadway and in gutters. Sometimes the material will stay there on and off for years, not only making sweeping impossible but allowing material to virtually pour into the storm drain system. Bangladesh, like all of that part of the world, suffers from massive rainfall during the monsoon season with flash flooding common.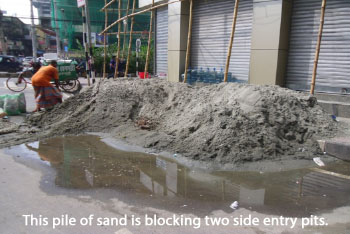 Coordination of roadworks is a very difficult task as the city sits on an ancient river delta of soft soil and is serviced by old water, sewerage and drainage pipes that require frequent repairs. Commodore Razzak said he has daily problems with new roadworks and other work that runs well past the scheduled completion date.
Commodore Razzak has started to experiment with mechanized sweeping and has installed one Johnston vacuum sweeper in North Dhaka. So far it has been used on some main roads and its performance and daily loads carefully monitored. He showed me interesting figures of loads collected that spiked alarmingly when strong westerly winds blew and shifted fine sand and silt onto the road.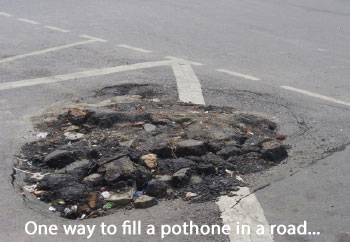 He will continue to monitor the sweeper with the idea of purchasing more machines, but is also quite conscious of the severe social and political disruption that would occur if 4,000 manual sweepers were discarded.
The answer will be to re-deploy them into areas that do not receive any sweeping at all. The waste management departments on both sides of the city are continually looking for better ways to keep their city clean but in a country with very limited budget it is difficult to justify large capital expenditure when so many other infrastructure projects are in need of funds.
Fortunately both ends of Dhaka can see the need to improve street sweeping and management will continue to search for solutions. I look forward to watching their progress.
---

Phileas Fogg is a somewhat mysterious world traveler who has written several other articles for WorldSweeper throughout the years.