Our Visit to a Jade Factory Near Beijing
On our first morning in Beijing, the Hilton had arranged for us to visit some of the area's more famous attractions. At 9 AM we were introduced to Yu, who was to be our interpreter and tour guide for the day's travels. Outside, a car and driver were waiting, and off we went on the hour's drive that would take us to a section of the Great Wall of China, one of the "7 Wonders of the World."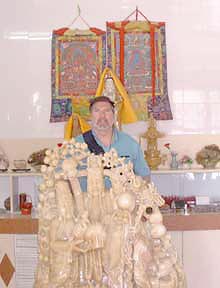 It took about 15 minutes to get out of the crush of traffic that seems to characterize the roads inside Beijing itself. After another quarter hour of travel, we reached what is called the "Ming Tomb" area. Instead of stopping at the tombs themselves, however, our driver sailed on past to a large, single-story building that housed a Chinese government-run jade factory.
In the anteroom were about a dozen craftsmen, each hard at work using a bench grinder with diamond blade to turn their piece of jade stone into an intricately carved piece of jewelry. Next stop was a room with large, showy jade carvings. The one shown in the picture took one of their craftsmen two years to complete. Jade, explained Yu, is considered by the Chinese to be the most important type of raw material in existence, even more so than gold. That's because it takes many years to find, transport, and develop into jewelry and other items.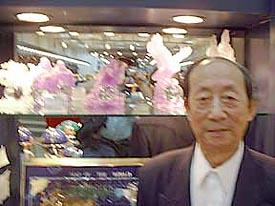 Here, too, was where we got a lesson in telling real jade from the fake glass and marble look-alikes that abound in the tourist shops. We were shown a tray containing six jade bracelets, and invited to separate them into the three that were fakes and three that were the real McCoy.
We each made our choices. Then, the factory guide re-separated the items into the correct groups. Our individual success ratios varied, none had been completely correct. Our host then showed us several methods for distinguishing between actual jade and fakes. One of the mainstay tests is that real jade is harder than glass, so if you're unsure, the guide recommended trying to scratch a piece of glass with it. All reputable establishments, he assured us, would have a square of glass available for just such a test. If they didn't, his advice was to pass on the purchase. Other methods included checking the uniform purity of the item (complete uniformity is unlikely, since it was a rock to start with), and seeing if there are any small air bubbles in the item (most common with glass replicas).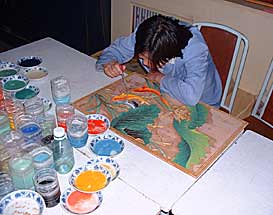 At the end of the tour, we were taken to the obligatory jade showroom, where attentive salespeople were available to answer our every question in passable English. At the back, a woman whose speciality is making ceramic paintings was diligently plying her craft. She was working on a wooden canvas that held copper wire that had been bent into the areas that would hold the ceramic paint. The intricately bent wire, we were told, was held in position with a strong gum-based glue that ensured it wouldn't come off. We watched as she "painted" using an eye-dropper and mixtures of different colored ceramic paints, which you can see in the variety of containers in the picture.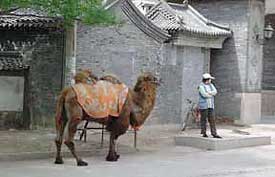 Our exit from the building required that we wend our way through a gauntlet of street vendors, including a woman offering camel rides. Across the street was another row of vendors with T-shirts and brightly colored traditional Chinese clothing and handmade items. Recognizing we were Caucasian (= rich) they all started clamoring loudly for us to come over and buy from them. At this point, we were more interested in getting back to the road toward the Great Wall, so all got back into the car for the half-hour drive.