Eagle Eye Software:
Much More Than a GPS System
by Ranger Kidwell-Ross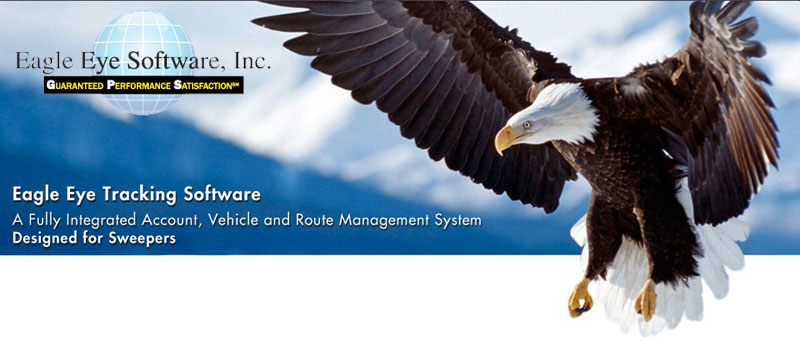 Both Eagle Eye developers and customers call this software/hardware system "much more than a GPS system." Program combines tracking of account information, worker productivity, vehicle upkeep and route management functions.
Mike Lucht has been a sweeping contractor for a long time; 33 years, to be exact. During that time he has invested untold hours in finding ways to be a better contractor. He has also offered a considerable amount of time assisting other contractors to better understand the sweeping business. This has been done both during his annual attendance of the National Pavement Exposition as well as through his years of leadership in the sweeping industry's trade association.
Lucht was President of the sweeping industry association when it was part of the Solid Waste Industry Association over a decade ago – before the current NAPSA organization was even founded. Yet he was also a Founding Member of NAPSA.
In total, Mike Lucht has sweeping credibility and the knowledge to go with it. That's why – now that he has developed and is bringing to market a software package designed specifically for power sweeping – it's something everyone in the industry should take a look at.
"There are GPS packages galore on the market," says Lucht. "Yet none of them 100% understand and support the function of sweeping. We designed Eagle Eye Software to provide much more than what a GPS alone can accomplish for your business. And, at the same time, the product is specifically designed for power sweeping, period. That's an enormous difference when it comes to use-ability."
For one, Lucht found the standard 'ping' rate of most of the software on the market was 1 to 5 minutes. With his extensive background as a sweeping contractor, Lucht realized there would be significant ability to better measure performance with a ping rate that measured seconds rather than minutes. In a business like sweeping, which is real estate-based, tracking within a few seconds can be important.
"A lot can happen in 5 or 10 seconds when you're traveling down the road in a vehicle, too, says Lucht. "Plus, with Eagle Eye's 'Gate-to-Gate® payroll system, employees' productive time can be tracked by the minute in order to pay them by the hour.
That difference can really add up by the end of the pay period. Using this system, one of our clients reduced payroll by 30 overtime hours/week on their 8 sweepers. They now capture that back in real dollars."

Prior to bringing the software to market, Lucht tested it out extensively within his own company. For the electronics component he found a partner to do the work needed to make the program into one with world-class capabilities.
It took a total of two years to develop the passive tracking device. This allows usage with no monthly fees, which is still available, although the devices cost is more.
Now, over the last 9 months, the program has taken another giant leap forward with the addition of real-time tracking capability. This still allows a 3-second ping rate, although there is a modest monthly fee. The hardware is much less, though. You can even see what has been done on a route up to the time you check.
The new real-time system, 'Eagle Eye LIVE,' means clients have the ability to know where their vehicles are at any time without having to wait, for example, until a sweeper returns to base. "This allows a manager to more easily dispatch equipment on a spontaneous basis and review an operator's work through the middle of his route," says Lucht.
"You can see a number of aspects of the employee's work, including where they swept, the sweeping pattern they used, gutter broom usage, whether the driver left the cab to do hand work, etc.
"It's the next best thing to being onsite – and you or your manager can do this on all of your routes right from your office computer. With a program like LogMeIn that allows computer sharing, you can monitor from any computer located anywhere."
With Eagle Eye, the GPS is just one component of what the package is able to do, as compared to what people have come to expect from GPS. By integrating the GPS within the route scheduling program you are enabled to develop reports that will help both an operator and the management team determine a variety of factors.
"You can determine how long any individual account takes to service," says Lucht, and you can have audit reports that show exceptions to what your normal parameters are; data may also be collected for such items as head up/head down, pony motor operation – even if the operator is in the truck seat. The management team sets the parameters and the software does the rest."
The passive system makes data available as soon as the sweeper gets back to its base. With Eagle Eye LIVE, the reports are generated once the vehicle returns to base even though you can review performance at any time during a route. Most managers choose to review the exceptions log on a daily basis to see if any deviations occurred from the performance standards they created. This allows managers to establish an almost immediate feedback loop with operators for continuous training and communication.
The routing system portion of Eagle Eye makes it easy to route and schedule your sweepers, as well as to make changes easily. There is an audit report that automatically can alert your scheduling manager if he misses a location that has a frequency entered into the system.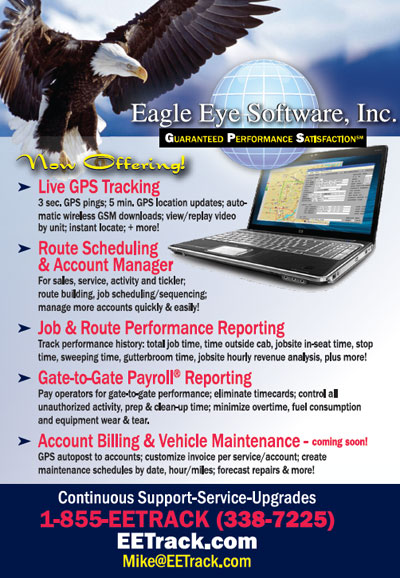 "As any contractor can attest," says Lucht, "in the sweeping industry just because a client's lot is located right next to another client doesn't necessarily mean you can sweep them one right after the other – given noise restrictions, time of closure, etc. You can make day-to-day changes in your scheduling with Eagle Eye because it is so fluid.
"When you make a change to a route for today only, it returns to the previous route tomorrow – future route templates are not affected unless you want a change to be permanent. You can maintain the integrity of your system without a bunch of pins on a board on the wall or similar. Plus, all your account information is located in one spot, and from that one spot you can encompass all of your company activities in one integrated system.
"Eagle Eye is extremely easy to use and user-friendly. Our night manager does not have a computer at home or use a computer other than at the office. He had zero problems picking up how to use the Eagle Eye routing and scheduling software, though, and absolutely loves it."
Eagle Eye is not just for contractors, either. The Eagle Eye package was recently chosen over six other providers by a city in Texas that operates five municipal sweepers. They chose Eagle Eye because they were so impressed by the simplicity and ease of obtaining such a diverse stream of data. They were astonished, said Lucht, at how easy the Eagle Eye system makes it to get the kind of relevant reports they wanted and needed.
Because of the potential impact this software has to streamline a sweeping contractor's business, I conducted an in-depth, 40-minute audio interview with Mike Lucht about it. For more details about the product and what you can accomplish with it, use the link below to access the audio.
For your convenience in accessing a file with all the program features, click on the graphic shown to the right to download the program's identical information sheet as a PDF file.
Note: The audio interview with Lucht will play without downloading any files onto your computer. If you hear the interview at 'chipmunk speed,' you will need to download the latest version of Adobe's free Flash player.
Note: To play the interview, click this link or on the small triangle inside the circle you see to the left. If you have any trouble accessing this audio, please let us know.
If you'd like to contact Mike Lucht, send an email to Mike@eetrack.com. Eagle Eye Software may be reached by calling 855-EE-TRACK (338-7225).
If you have questions or comments about this interview, please, let us know and we can add it in as an addendum to this article.